by Hadrian Miguel, Lifestyle & Beauty Director
Gareth Pugh is a British designer based in Paris who has been taking the fashion world by storm for his over-the-big-top, sense of spectacle clothing. Some of his designs have used a variety of materials, including inflated latex, PVC, vinyl, perspex, and human hair to create a dramatic futuristic vision of fashion.
Gareth's background in fashion design began at age 14 as the costume designer for the English National Youth Theatre. He graduated from Central Saint Martins College of Art and Design in London in 2003 and mounted his first London Fashion Week solo show just four years ago. He apprenticed under the tutelage of avant-garde designer Rick Owens, and it's Owens' wife, Michele Lamy, who eventually has become Gareth's business partner.
He comes from the school of fashion as performance art where his collections are wearable sculptures and are often admired for their technical merit, artistic value, and creative vision. At age 28, his expressive designs are dramatic, stark, slick, simple, and steely. A master of high concept, some of the early accolades have compared him with couture geniuses Alexander McQueen, John Galliano, Vivienne Westwood, and Thierry Mugler.
To get a real sense of his aesthetic, he once cited the Wizard of Oz meets Predator as his design influence.  Because Gareth's designs are theatrical and experimental, for the last few years his ascent as a fashion darling is thanks in part to his high-profile showstoppers that have caught our attention through music & style stars Kylie Minogue, Róisín Murphy, and Casey Spooner (of Fischerspooner). Marilyn Manson, Rihanna, and Lady GaGa have also been seen draped in some of his graphic and sharp looks, while superstar Beyoncé owes much of her edgier and confident Sasha Fierce persona to Gareth Pugh's hard femininity statements, which she has donned in her Diva and Sweet Dreams videos, on a Elle magazine cover, and at MTV Europe Music Awards show.
Here are some of Gareth's designs from his past collections:
As an evolving artist and designer, Gareth has moved away from his earlier eccentricities of hard lines and angles, and puffed up-pumped out abstractions to producing silhouettes with loose knitwear, more structured tailoring and using softer flowy and billowy fabrics like chiffon and ribbons. His latest garments are something people can actually wear but are still in line with his dark aesthetic and uncompromising creative vision.
His clothes can be found at Browns in London, Colette in Paris, Seven, Barneys and Bergdorf Goodman in New York. A single piece can sell for thousands of dollars, and only the most spirited, open-minded, fashion forward and assured customer are ever likely to buy and wear them.
Let's take a look at the softer side of Gareth with his Spring 2010 men's and women's collections.
Behind every great designer is a great team of collaborators who has helped with the brand, pictured below in Gareth's Studio are from l to r: publicist Mandi Lennard, business partner Michele Lamy, Gareth Pugh, fashion editor & stylist Katie Shillingford in striped dress, model Kim Noorda on desk, boyfriend Carson McColl (under desk), fashion stylist/editor/consultant Nicola Formichetti (hanging from pipe), Caroline Warner of Moet & Chandon London Fashion Week sponsor, artist Matthew Stone, Fashion East's Lulu Kennedy (on table), hair stylist Martin Cullen in inflatable coat, and jewelry and accessories designer Judy Blame.
Gareth's creations have trickled into other aspects of design as seen here:
Porcelain maker Nymphenburg to celebrate its 260th anniversary launched a limited edition of the world-famous Commedia Dell'Arte figures produced by the rococo sculptor, Franz Anton Bustelli. Gareth was one of sixteen internationally acclaimed fashion designers were invited to create new clothes for their favorite figure in the Commedia Dell'Arte group. Here's Capitano Spavento by Gareth Pugh.
Also, Six Scents is a niche perfume project that calls together both renowned perfumers and artists to collaborate on a collection of limited edition perfumes. No. 4 "Diagonal" – by Gareth Pugh (& Emilie Coppermann)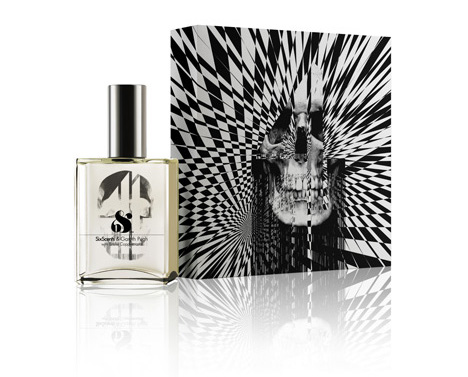 Mattel commissioned Gareth to create a limited edition Ken doll in a look inspired by his first menswear collection. Gareth created Ken with a goth look in a vinyl trench and black skinny jeans.